We are...
Winners of the Gold medal as first-placed Division A small Chorus in 2023, the Melbourne Chorus 2023 is a team of dedicated people, singing 4 part acapella in barbershop style. We strive for vocal excellence, whilst having fun at our weekly rehearsals. As a Member of Sweet Adelines International we provide quality vocal education.  Learn more about us.
Feedback:
"I wanted to say a big thank you to all of the ladies who performed at The Valley these past 4 weeks. It's been delightful being able to share our events with such lovely carols being sung as our guests have arrived. Our internal team and customers have thoroughly enjoyed hearing the carols each weekend during our Christmas events and I wanted to thank you all for being so great to work with." Task (MVRC)
Feedback: 
"Your performance was wonderful. You all looked beautiful.  Your directing is lovely to watch, and of course the sound was fabulous as usual. Well done on your competition entry".  Louise (fellow director of a Sweet Adelines Chorus).
Our aim...
Musical excellence, education, friendship and the encouragement of camaraderie, confidence and community involvement. All while we share the joy of a cappella, four-part harmony, barbershop style. Join Us!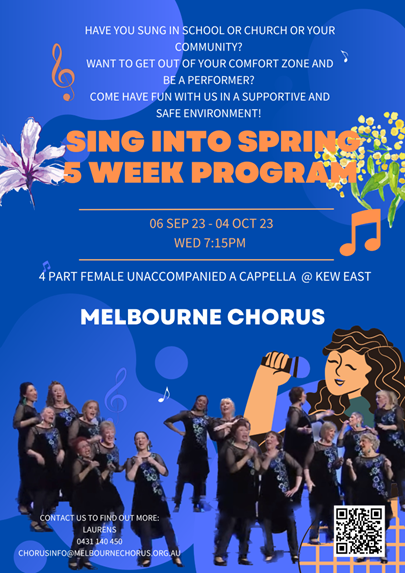 Member Reflection:
I first joined a chorus when my youngest was a toddler. I was looking for an activity that was just for me. However, almost five years later you could say I am definitely hooked! I love the challenge of singing in four-part harmony, it's tricky -but so rewarding when you get it right.  Although I love the music, the best part about choruses for me has been the friendships I have made. I move around a lot for work, always in a new city or new country without knowing anyone, but then I joined the local chorus (Melbourne Chorus is my third!) and straight away I have a friendly group of people to hang out with. I would thoroughly recommend Melbourne Chorus to anyone -they are so welcoming and there are a lot of laughs! (Kate, Bass)
Worldwide:
Melbourne Chorus is part of Sweet Adelines the largest organization for women singers in the world, with over 25,000 women singers in 10 countries around the globe. Region 34 has its own information.