We are...
an award-winning women's a cappella harmony chorus from Melbourne, Australia who provides inspiring and energetic weekly rehearsals.  Members come from all walks of life and ages range from 18 to 70+.  Learn more about us.
Feedback:
"Hi, I just wanted to say I saw you guys sing at Royal South Street last weekend and you all absolutely killed it!!  Definitely one of the best choir performances I've seen."  Alex (student)
Feedback: 
"Well done Melbourne Chorus, your performance today was full of joy and beautiful harmonies!  The students sitting near me went from being politely ready to listen to animated and excited by such a quality perfomance - you even had some of them standing to applaud....you gave your audience a gift and inspired young choral singers.  Thanks Lauren" (pianist)
Our aim...
Musical excellence, education and the encouragement of camaraderie, confidence and community involvement, while sharing the joy of a cappella, four part harmony, barbershop style. Join Us!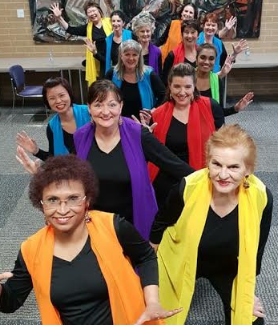 Worldwide...
Melbourne Chorus is part of Sweet Adelines International, the largest organization for women singers in the world, with over 25,000 women singers in 10 countries around the globe.
 
Members Reflections:
* My sister and I wanted an activity that we could do together.  We read an ad for Melbourne Chorus and saw them singing in Kings Domain on Australia Day. I wondered if I could do that. We went along for the recruitment drive and here we are 10 years later. 
*  I went for a night and haven't left. I do love being part of this complex, warm-hearted and incredibly diverse group of women, and singing in four-part harmony with sixty voices fills the need I was missing...