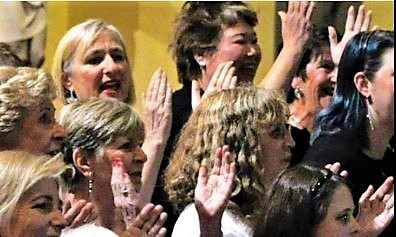 We are contestant #4 on stage 18th May 12:03pm. https://www.sweetadelines.org.au/convention/ Watch the free webcast of this years Region 34 Convention.
Our quartet, Harmony Capers on stage 17th May 2:09pm
Hosting the webcast:  Traci Voss (Melbourne), Vicki Dwyer (Circular Keys), and Alex Morris (Geelong Harmony).  Joining them in the hot seat are Laurel Santry (Redland Rhapsody), Kirsten Richardson (A Cappella West) and Henrietta Farr (Vocal Vibes).
Watch the webcast of the Quartet Competition (Fri 17 May 19) and Chorus Competition (Sat 18 May 19) AND you will also be able to access the webcast archive for 2 weeks after the competition.